---
Jack and the beanstalk = Juan y los frijoles magicos / adaptation by Francesc Bofill ; illustrations by Arnal Ballester.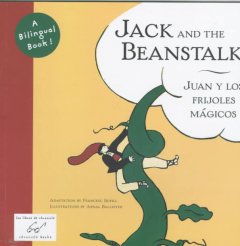 Available copies
Current holds
0 current holds with 7 total copies.
Summary:
A retelling of the classic story of the boy who climbs a beanstalk and outwits a giant.
Record details
ISBN:

0811818438

Physical Description:

1 volume (unpaged) : color illustrations ; 21 cm.

Publisher:

San Francisco, Calif. :

Chronicle Books,

[1998]

Copyright:

©1998.
Content descriptions
General Note:

"Originally published in Spanish by La Galera under the title "Los guisantes maravillosos"--page facing t.p.

Summary, etc.:

A retelling of the classic story of the boy who climbs a beanstalk and outwits a giant.

Study Program Information Note:

Accelerated Reader Lower Grades 3.6 0.5 (English)

Accelerated Reader Lower Grades 3.3 0.5 (Spanish)
Search for related items by subject
LDR
01762nam a2200493a 4500
001
238039
003
SAGE
005
20160428213207.0
008
970721s1998 caua b 000 0 eng
010

.

‡a

97028901
020

.

‡a

0811818438
040

.

‡a

DLC

‡c

DLC

‡d

DLC

‡d

UtOrBLW
041
0

.

‡a

engspa
042

.

‡a

lcac
050
0
0

.

‡a

PZ74

‡b

.B54 1998
100
1

.

‡a

Bofill, Francesc.

‡0

(SAGE)1665269
245
1
0

.

‡a

Jack and the beanstalk =

‡b

Juan y los frijoles magicos /

‡c

adaptation by Francesc Bofill ; illustrations by Arnal Ballester.
246
3
1

.

‡a

Juan y los frijoles magicos
264
1

.

‡a

San Francisco, Calif. :

‡b

Chronicle Books,

‡c

[1998]
264
4

.

‡c

©1998.
300

.

‡a

1 volume (unpaged) :

‡b

color illustrations ;

‡c

21 cm.
336

.

‡a

text

‡2

rdacontent
337

.

‡a

unmediated

‡2

rdamedia
338

.

‡a

volume

‡2

rdacarrier
500

.

‡a

"Originally published in Spanish by La Galera under the title "Los guisantes maravillosos"--page facing t.p.
520

.

‡a

A retelling of the classic story of the boy who climbs a beanstalk and outwits a giant.
526
0

.

‡a

Accelerated Reader

‡b

Lower Grades

‡c

3.6

‡d

0.5

‡z

(English)

‡5

NYSSA.
526
0

.

‡a

Accelerated Reader

‡b

Lower Grades

‡c

3.3

‡d

0.5

‡z

(Spanish)

‡5

NYSSA.
650
0

.

‡a

Fairy tales

‡0

(SAGE)1447421
650
0

.

‡a

Folklore

‡z

England

‡v

Juvenile literature.
650
0

.

‡a

Giants

‡v

Folklore

‡0

(SAGE)1491357
650
0

.

‡a

Spanish language materials

‡x

Bilingual

‡v

Juvenile literature.
700
1

.

‡a

Ballester, Arnal

‡0

(SAGE)1899711
730
0

.

‡a

Jack and the beanstalk.

‡l

English.
902

.

‡a

101201
997

.

‡a

RDA ENRICHED
999

.

‡b

6

‡c

000620

‡d

m

‡e

Book

‡g

0

‡f

a
901

.

‡a

i0811818438

‡b

ISxN

‡c

238039

‡t

biblio