---
The last kings of Shanghai : the rival Jewish dynasties that helped create modern China / Jonathan Kaufman.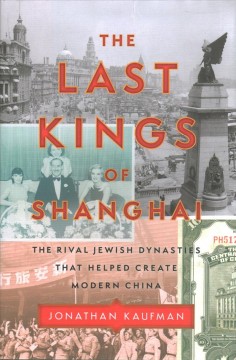 Available copies
Current holds
0 current holds with 2 total copies.
Summary:
"Shanghai, 1936. The Cathay Hotel, located on the city's famous waterfront, is one of the most glamorous in the world. Built by Victor Sassoon--billionaire playboy and scion of the Sassoon dynasty--the hotel hosts a who's who of global celebrities: Noel Coward has written a draft of Private Lives in his suite, Charlie Chaplin entertained his wife-to-be, and the American socialite Wallis Simpson reportedly posed for dirty photographs. A few miles away, Mao and the nascent communist party have been plotting revolution before being forced to flee the city. By the 1930's, the Sassoons had been doing business in China for a century, rivaled in wealth and influence by only one other dynasty--the Kadoories. These two Jewish families, both originally from Baghdad, stood astride Chinese business and politics for more than one hundred seventy-five years, profiting from the Opium Wars; surviving Japanese occupation; courting Chiang Kai-shek; and nearly losing everything as the Communists swept into power. ...Jonathan Kaufman tells the remarkable story of how these families ignited an economic boom and opened China to the world, but remained blind to the country's deep inequality and to the political turmoil on their doorsteps. In a story stretching from Baghdad to Hong Kong to Shanghai to London, Kaufman enters the lives and minds of these ambitious men and women to forge a tale of opium smuggling, family rivalry, political intrigue, and survival. He also tells the triumphant story of how they joined to rescue and protect eighteen thousand Jewish refugees fleeing Nazism." --Provided by publisher.
Location
Call Number / Copy Notes
Barcode
Shelving Location
Circulation Modifier
Age Hold Protection
Active/Create Date
Status
Due Date

Baker County Library

951.132004924 .K213l 2020

(Text)
37814003256725

NON-FICTION - NEW

Book
System_Only_3months
06/14/2021
Available
-
Record details
ISBN:

9780735224414

ISBN:

0735224412

ISBN:

9780735224438

Physical Description:

xxxi, 350 pages : illustrations, map ; 24 cm

Publisher:

[New York, New York] :

Viking, an imprint of Penguin Random House LLC,

[2020]
Content descriptions
| | |
| --- | --- |
| Bibliography, etc. Note: | Includes bibliographical references (pages 303-332) and index. |
| Formatted Contents Note: | The Patriarch -- Empire of the Sons-and Opium -- Laura and Elly -- Shanghai Rising -- The Impresario -- "Me Voila Therefore Walking a Tightrope" -- War -- "I Gave Up India and China Gave Me Up" -- The Reckoning -- The Last Taipan -- Back on the Bund. |
| Summary, etc.: | "Shanghai, 1936. The Cathay Hotel, located on the city's famous waterfront, is one of the most glamorous in the world. Built by Victor Sassoon--billionaire playboy and scion of the Sassoon dynasty--the hotel hosts a who's who of global celebrities: Noel Coward has written a draft of Private Lives in his suite, Charlie Chaplin entertained his wife-to-be, and the American socialite Wallis Simpson reportedly posed for dirty photographs. A few miles away, Mao and the nascent communist party have been plotting revolution before being forced to flee the city. By the 1930's, the Sassoons had been doing business in China for a century, rivaled in wealth and influence by only one other dynasty--the Kadoories. These two Jewish families, both originally from Baghdad, stood astride Chinese business and politics for more than one hundred seventy-five years, profiting from the Opium Wars; surviving Japanese occupation; courting Chiang Kai-shek; and nearly losing everything as the Communists swept into power. ...Jonathan Kaufman tells the remarkable story of how these families ignited an economic boom and opened China to the world, but remained blind to the country's deep inequality and to the political turmoil on their doorsteps. In a story stretching from Baghdad to Hong Kong to Shanghai to London, Kaufman enters the lives and minds of these ambitious men and women to forge a tale of opium smuggling, family rivalry, political intrigue, and survival. He also tells the triumphant story of how they joined to rescue and protect eighteen thousand Jewish refugees fleeing Nazism." --Provided by publisher. |
Search for related items by subject