---

The American crisis : what went wrong, how we recover / the writers of the Atlantic ; introduction by Jeffrey Goldberg ; afterword by Anne Applebaum ; edited by Cullen Murphy.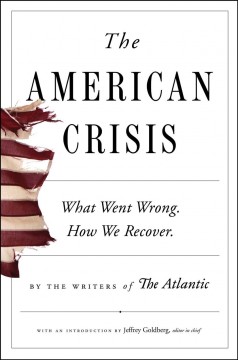 Available copies
Current holds
0 current holds with 2 total copies.
Summary:
"The past four years in the United States have been among the most turbulent in our history--and would have been so even without a global pandemic and waves of protest nationwide against police violence. Drawn from the recent work of The Atlantic staff writers and contributors, The American Crisis explores the factors that led us to the present moment: racial division, economic inequality, political dysfunction, the hollowing out of government, the devaluation of truth, and the unique threat posed by Donald Trump. Today's emergencies expose pathologies years in the making. Featuring leading voices from The Atlantic, one of the country's most widely read and influential magazines, The American Crisis is a broad and essential look at the condition of America today--and at the qualities of national character that may yet offer hope" --book jacket.
Location
Call Number / Copy Notes
Barcode
Shelving Location
Circulation Modifier
Age Hold Protection
Active/Create Date
Status
Due Date

Baker County Library

320.97309051 .A512c 2020

(Text)
37814003315323

NON-FICTION - NEW

Book
System_Only_3months
10/23/2020
Available
-
Record details
ISBN:

1982157038

Physical Description:

vii, 566 pages ; 23 cm

Edition:

First Simon & Schuster trade paperback edition.

Publisher:

New York :

Simon and Schuster,

2020.
Content descriptions
| | |
| --- | --- |
| General Note: | Includes index. |
| Formatted Contents Note: | Introduction / by Jeffrey Goldberg -- When the next plague hits / by Ed Yong -- The birth of a new American aristocracy / Matthew Stewart -- Left behind / by Tara Westover and Jeffrey Goldberg -- Red state, blue city / by David A. Graham -- Carry me back / by Drew Gilpin Faust -- Being black in American can be hazardous to your health / Olga Khazan -- The undocumented agent / by Jeremy Raff -- Brotherhood of losers / by Angela Nagle -- The most expensive weather year ever / Annie Lowrey -- The prophecies of Q / by Adrienne LaFrance -- They had it coming / by Caitlin Flanagan -- A warning from Europe / by Anne Applebaum -- Newt Gingrich says you're welcome / by McKay Coppins -- What's ailing American politics? / by Jonathan Rauch -- American hustler / by Franklin Foer -- The battle for North Carolina / by Vann R. Newkirk II -- How America ends / by Yoni Appelbaum -- The last temptation / by Michael Gerson -- Why technology favors tyranny / by Yuval Noah Harari -- In case of emergency / Elizabeth Goitein -- The enemy within / by James Mattis -- The coronavirus called America's bluff / by Anne Applebaum -- Donald Trump and the politics of fear / by Molly Ball -- The first white president / by Ta-Nehisi Coates -- The Republican Party moves from family values to white nationalism / by Alex Wagner -- Am I an American? / by Ibram X. Kendi -- The world burns. Sarah Sanders says this is fine / by Megan Garber -- How to destroy a government / by George Packer -- How to build an autocracy / by David Frum -- General chaos / by Mark Bowden -- Inside Ivanka's dreamworld / by Elaina Plott -- Will Beth Moore lose her flock? / by Emma Green -- The cruelty is the point / by Adam Serwer -- The last day of my old life / by Caitlin Flanagan -- Becoming a parent in the age of Black Lives Matter / by Clint Smith -- The lessons of the Great Depression / Lizabeth Cohen -- The road from serfdom / by Danielle Allen -- In the fall of Rome, good news for America / by James Fallows -- The possibility of America / by David W. Blight -- What art can do / by Lin-Manuel Miranda -- Afterword: Between bravado and despair by Anne Applebaum. |
| Summary, etc.: | "The past four years in the United States have been among the most turbulent in our history--and would have been so even without a global pandemic and waves of protest nationwide against police violence. Drawn from the recent work of The Atlantic staff writers and contributors, The American Crisis explores the factors that led us to the present moment: racial division, economic inequality, political dysfunction, the hollowing out of government, the devaluation of truth, and the unique threat posed by Donald Trump. Today's emergencies expose pathologies years in the making. Featuring leading voices from The Atlantic, one of the country's most widely read and influential magazines, The American Crisis is a broad and essential look at the condition of America today--and at the qualities of national character that may yet offer hope" --book jacket. |
Search for related items by subject