---
Games of deception : the true story of the first U.S. Olympic basketball team at the 1936 Olympics in Hitler's Germany / Andrew Maraniss.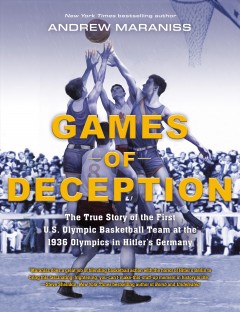 Available copies
3 of 3 copies available at Sage Library System. (Show)
0 of 0 copies available at Baker County Library District.
0 of 0 copies available at Baker County Library.
Current holds
0 current holds with 3 total copies.
Summary:
July 1936. Thousands of people cheered as the U.S. Olympic teams boarded the S.S. Manhattan, bound for Berlin. Among the athletes were the 14 players representing the first-ever U.S. Olympic basketball team. In Germany, Jewish people and political opponents of the Nazis were the targets of vicious mistreatment, but international visitors wouldn't see any signs of trouble in Berlin. Maraniss covers the sport's invention in Massachusetts in 1891 to its Olympic debut in Berlin and the eclectic mix of people, events and propaganda on both sides of the Atlantic that made it all possible. -- adapted from jacket.
Location
Call Number / Copy Notes
Barcode
Shelving Location
Circulation Modifier
Age Hold Protection
Active/Create Date
Status
Due Date
Record details
ISBN:

9780525514633

ISBN:

0525514635

Physical Description:

217 pages : illustrations ; 24 cm

Publisher:

New York :

Philomel Books,

2019.
Content descriptions
Bibliography, etc. Note:

Includes bibliographical references and index.

Formatted Contents Note:

One man stood alone -- A sinister fac̦ade -- Inventing a game -- Do good and be pure -- Man on a mission -- The boycott question -- Meddling in the Olympics -- Mirror, mirror -- Hollywood stars -- Unrefined -- Big time -- Choices -- On their own -- You can't beat fun -- Welcome to Germany -- The anvil and the hammer -- The grandest show -- Village people -- Witnesses to history -- Neutral zone -- 110,000 bored Germans -- Tournament time -- Strangest game ever -- Center of the universe -- Full circle -- Afterword: Putting the pieces together -- All-time Olympic basketball results. 1936 Team USA roster ; 1936 Berlin Olympics: day-by-day.

Summary, etc.:

July 1936. Thousands of people cheered as the U.S. Olympic teams boarded the S.S. Manhattan, bound for Berlin. Among the athletes were the 14 players representing the first-ever U.S. Olympic basketball team. In Germany, Jewish people and political opponents of the Nazis were the targets of vicious mistreatment, but international visitors wouldn't see any signs of trouble in Berlin. Maraniss covers the sport's invention in Massachusetts in 1891 to its Olympic debut in Berlin and the eclectic mix of people, events and propaganda on both sides of the Atlantic that made it all possible. -- adapted from jacket.

Target Audience Note:

Ages 12 up Philomel Books.

Grades 7-9 Philomel Books.

N.L. Lexile.=611 20 Olympic Games (11th : 1936 : Berlin, Germany)
Search for related items by subject