---
Homelands : four friends, two countries, and the fate of the great Mexican-American migration / Alfredo Corchado.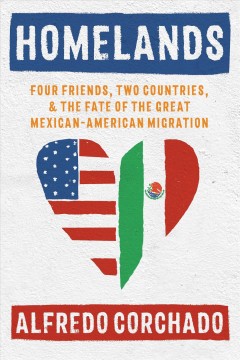 Available copies
Current holds
0 current holds with 2 total copies.
Summary:
When Alfredo Corchado moved to Philadelphia in 1987, he felt as if he was the only Mexican in the city. But in a restaurant called Tequilas, he connected with two other Mexican men and one Mexican American, all feeling similarly isolated. Over the next three decades, the four friends continued to meet, coming together over their shared Mexican roots and their love of tequila. One was a radical activist, another a restaurant/tequila entrepreneur, the third a lawyer/politician. Alfredo himself was a young reporter for the Wall Street Journal. Homelands merges the political and the personal, telling the story of the last great Mexican migration through the eyes of four friends at a time when the Mexican population in the United States swelled from 700,000 people during the 1970s to more than 35 million people today. It is the narrative of the United States in a painful economic and political transition. As we move into a divisive, nativist new era of immigration politics, Homelands is a must-read to understand the past and future of the immigrant story in the United States, and the role of Mexicans in shaping America's history. A deeply moving book full of colorful characters searching for home, it is essential reading.
Location
Call Number / Copy Notes
Barcode
Shelving Location
Circulation Modifier
Age Hold Protection
Active/Create Date
Status
Due Date

Baker County Library

973.046872 .C793h 2018

(Text)
37814003303337

NON-FICTION - NEW

Book
System_Only_3months
09/30/2020
Available
-
Record details
ISBN:

9781632865540

ISBN:

1632865548

Physical Description:

x, 293 pages ; 25 cm

Publisher:

New York :

Bloomsbury, USA, an imprint of Bloomsbury Publishing Plc,

2018.
Content descriptions
| | |
| --- | --- |
| Formatted Contents Note: | Prologue: One wintry night at Tequilas -- I. Leaving home -- El Pajarito & Superwoman in El Norte -- David, un caminero in Philly -- Ken, Barbie & Brooks Brothers -- Primo, the mystery man -- Crawling out of the shadows -- II. The giant IRCA awakening -- Freddy's Café -- A fickle nation -- The rebuilding of America -- Farewell, Philadelphia -- III. Malinche's children -- Marriage of convenience -- Homeward bound -- Tequila midnight in Guadalajara -- Trapped in the U.S., no going back -- IV. Uneasy neighbors -- Heartache heartland -- Havana calling, Santana's guitar -- The fallout -- V. Homeless -- The blame game -- Sister Guadalupe's unusual spirit -- Middleman, Siembra's rise -- Hardening the line -- VI. Homelands -- Walls -- The Pope in a nativist land -- Thirtieth aniversario, the celebration -- Arcadio's legacy -- Lessons from Israel -- The wisdom of Doña Lidia -- Tío Alejo's funeral -- Uncle Bill -- Four friends, Philadelphia reunion -- My homelands. |
| Summary, etc.: | When Alfredo Corchado moved to Philadelphia in 1987, he felt as if he was the only Mexican in the city. But in a restaurant called Tequilas, he connected with two other Mexican men and one Mexican American, all feeling similarly isolated. Over the next three decades, the four friends continued to meet, coming together over their shared Mexican roots and their love of tequila. One was a radical activist, another a restaurant/tequila entrepreneur, the third a lawyer/politician. Alfredo himself was a young reporter for the Wall Street Journal. Homelands merges the political and the personal, telling the story of the last great Mexican migration through the eyes of four friends at a time when the Mexican population in the United States swelled from 700,000 people during the 1970s to more than 35 million people today. It is the narrative of the United States in a painful economic and political transition. As we move into a divisive, nativist new era of immigration politics, Homelands is a must-read to understand the past and future of the immigrant story in the United States, and the role of Mexicans in shaping America's history. A deeply moving book full of colorful characters searching for home, it is essential reading. |
Search for related items by subject