---

Subliminally exposed : shocking truths about your hidden desires in mating, dating, and communicating. Use cautiously. / Steven H. Dayan.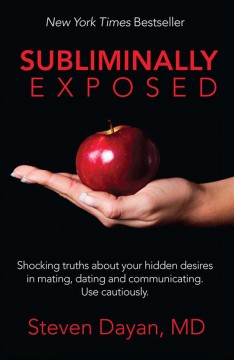 Available copies
Current holds
0 current holds with 1 total copy.
Summary:
Beauty is raw, powerful, and often dangerous, but when refined, harnessed, and mastered, it can be incredibly influential. Just as there is a good reason why all humans find sugar to be sweet and a growling beast intimidating, there is an evolutionary logic to why our appearances allow us to communicate and manipulate each other at a subconscious level. Who you choose to mate, befriend, or work with often pivots on a few critical yet subliminal decisions made within a fraction of a second. The human brain has been evolving over 3.5 million years, and our thoughts, behaviors, and actions are rooted in a system that is evolutionary, adaptive, and unencumbered by political social, or religious constraint. Evolution only cares about one thing: survival of our genes. Subliminally Exposed will reveal the how and why behind your actions and empower you to decode and translate others' subconscious behaviors. Learn: What male facial feature correlates with a female achieving orgasms more quickly, Why lips are so sexy to men, Why being too thin turns men off, but being overweight if in the right proportions doesn't, What male facial feature suggests he is more likely to be successful in business or unfaithful, Why African men like bigger behinds, What changes in a woman's face occur when she is sexually interested, What you can tell by a man's hands, Why a penis is shaped the way it is, What one factor matters most in helping a woman to get a raise at work, Whether it is for political, employment, or relationship purposes, the knowledge and tools gained from the words in this book can be used for betterment or deceit. It is your choice. Regardless, be forewarned. The information you are about to read may affect every one of your relationships for better or worse in one way or another. Book jacket.
Location
Call Number / Copy Notes
Barcode
Shelving Location
Circulation Modifier
Age Hold Protection
Active/Create Date
Status
Due Date

Baker County Library

153.736 .D275s

(Text)
37814002728021

NON-FICTION

Book
None
11/11/2013
Available
-
Record details
ISBN:

9781614485865

(pbk.)
Physical Description:

225 p. : ill. ; 23 cm.

Publisher:

New York, NY :

Morgan James Pub.,

2014
Content descriptions
| | |
| --- | --- |
| Bibliography, etc. Note: | Includes bibliographical references. |
| Formatted Contents Note: | The woman in white -- The sexiest racist alive -- Caution: Curves ahead! -- Arnold, Maria and the housekeeper -- Scents and sensibility -- One-nighter or soul mate? -- Junk in the trunk -- Is he or isn't she? -- Do-it-yourself allure -- Sleep like a baby, eat like a caveman -- Primal medicine -- Cashing in -- What's it all mean? Conclusion. |
| Summary, etc.: | Beauty is raw, powerful, and often dangerous, but when refined, harnessed, and mastered, it can be incredibly influential. Just as there is a good reason why all humans find sugar to be sweet and a growling beast intimidating, there is an evolutionary logic to why our appearances allow us to communicate and manipulate each other at a subconscious level. Who you choose to mate, befriend, or work with often pivots on a few critical yet subliminal decisions made within a fraction of a second. The human brain has been evolving over 3.5 million years, and our thoughts, behaviors, and actions are rooted in a system that is evolutionary, adaptive, and unencumbered by political social, or religious constraint. Evolution only cares about one thing: survival of our genes. Subliminally Exposed will reveal the how and why behind your actions and empower you to decode and translate others' subconscious behaviors. Learn: What male facial feature correlates with a female achieving orgasms more quickly, Why lips are so sexy to men, Why being too thin turns men off, but being overweight if in the right proportions doesn't, What male facial feature suggests he is more likely to be successful in business or unfaithful, Why African men like bigger behinds, What changes in a woman's face occur when she is sexually interested, What you can tell by a man's hands, Why a penis is shaped the way it is, What one factor matters most in helping a woman to get a raise at work, Whether it is for political, employment, or relationship purposes, the knowledge and tools gained from the words in this book can be used for betterment or deceit. It is your choice. Regardless, be forewarned. The information you are about to read may affect every one of your relationships for better or worse in one way or another. Book jacket. |
Search for related items by subject